I love BJFe , and also Menatone. And I found menatone "Red Snapper" which is PtoP (Point to point hand wired build) on an online auction in Japan, so I got it.
It's 20th anniversary model of Red Snapper, and be faithfully reproduced be early design of Red Snapper.
The sentence below is from home page of Menatone .
This is the circuit that started it all for Menatone.  Although the Menatone "Red" pedal launched in 1996 it was not until NAMM show of 1998 that the Red Snapper made its debut.  This Custom Shop version is point to point wired with the same parts as the original, and has the same font and fish graphic.
The photo below is my 20th anniversary model of Red Snapper. I really love this fish graphic and color.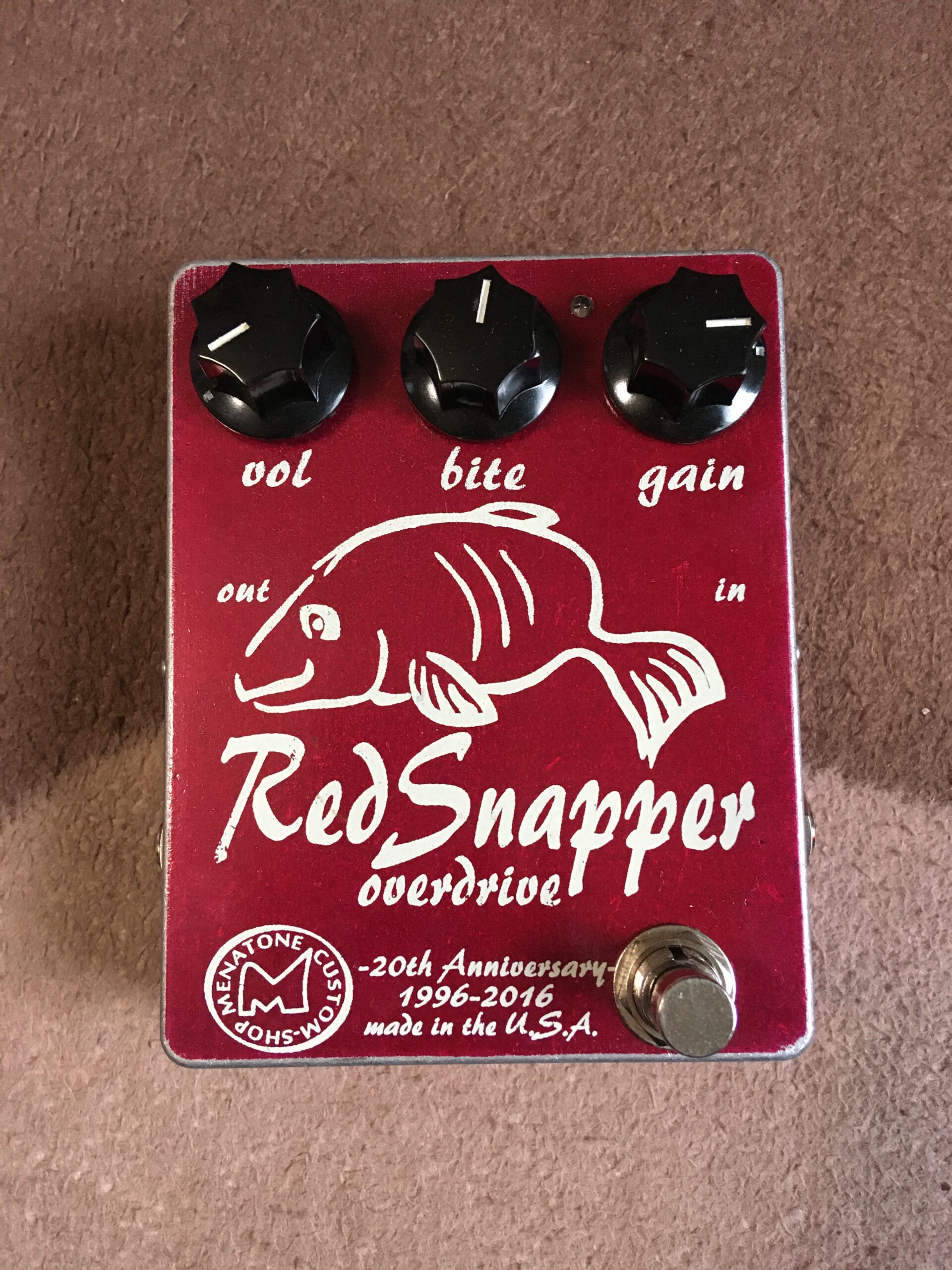 First impression
Firstly I haven't tried the early Red Snapper so I can't compare with the early and the one I bought, but I met another 4 knob version of Red Snapper when I was high school (2003~2006) and I had a perfect clone which is made by Yurri Sounds Effects. These pedals were the 4 Knob version.
I and some guitar friends had same impression that the 4 knob version of Red Snapper's was peaky. If we use tube amp such as fender, it was ok, but solid-state amp such as JC120 didn't go well .
However, these days I wanted to try PtP wired Red Snapper and I got 20th anniversary model of Red Snapper.
It's user friendly
I had impression as I wrote above so I was exited to try 20th anniversary model of Red Snapper,,, it's really user friendly. It's response but not peaky. I loved it !
In addition, it doesn't spoil amp sound, makes forceful and sparkling sound. I was very surprised at that is user friendly sound ! I get along well with it.
It's not high gain over drive pedal, and I prefer to use it with tube amp which is low gain setting such as booster.
In the end
I bought various equipments this year, but Red Snapper is get along well. Red Snapper makes me feel good and I want to gig with it. I hope the coronavirus goes away and I want to play guitar with my friends freely.